Altos del Maria

"In Altos birding is excellent at any time of the year."
Altos del Maria is an exclusive gated mountain residential community conveniently located at just 1 hour and 20 minutes (113 km – 70 miles) from Panama City and only 25 minutes away (25 km – 15.5 miles) from the Pacific coast beaches with their world-class golfing and shopping. This is definitely the perfect place to go bird watching.
The development is placed in 7000+ acre property so beautiful that many areas have the look and feel of a national park. Attractions include panoramic mountain, valley, green belt and Pacific Ocean views, a near perfect spring climate year round (75º F – 24 Cº),


LOCATION
Altos del Maria is an exclusive gated mountain residential community conveniently located at just 1 hour and 20 minutes (113 km – 70 miles) from Panama City
TOUR DIFFICULTY

■ Easy... to Moderate... to ■ Hard

FITNESS
Easy to moderate walking is required.
■ Easy... to ■ Moderate... to ■ Hard

WHAT TO EXPECT
With an early morning start expect to see by noon 60 to 80 species. And by the end of the day a final count of 90+ is common.

AREA DESCRIPTION
A first-class infrastructure including miles of paved roads, vast common areas, waterfalls, rivers, hiking trails, observation decks, parks, lookout points, flowers and trees everywhere.
The avifauna is quite similar to that of El Valle. We will be birding Altos de la Rioca (at the Continental Divide 1,100m) and the road to El Valle
WEATHER
A near perfect spring climate year round (75º F – 24 Cº),


BIRDING ALL DAY (5:00am till 4:00pm = 11 hrs... price is per person in usd cash)
| | | | |
| --- | --- | --- | --- |
| | 4-5 | 2-3 | 1 |
| Altos del Maria fromPanama City | 120 usd | 135 usd | |
| starting from other destination.... | | | |


ACCOMODATIONS
Easily done as a day trip. No need of accomodation, but there are apartment for renting.

EATING FACILITIES
There is no restaurant in the area.

CLOTHING
Light clothing is recommended: cotton shirts or t-shirts - earth colors preferable- long and short pants, poncho, hiking shoes, hat, insect repellent and sun block. Dress for tropical hot humid weather and be ready for rain.

GEAR
Binoculars, scope (optional), field guide, notebook and camera (optional ).

GUIDE BOOK RECOMMENDED
These two books are an example of hard work put into, and for the benefit, of conserving Panama's birds:
"The Birds of Panama, a field guide by George R Angehr and Robert Dean Can be described as the "bible" forPanama and some Costa Rica birds. The latest edition (1989).This excellent field guide is highly recommended as your primary reference book on the birds.
"An Illustrated Field Guide to the Birds of Panama" by Ernesto Ponce and Giselle Muschett, 2006, 1st Edition. It can be described as "a descriptive fieldwork tool" for fast information .

BIRDS TO LOOK FOR
This is a list of birds - by memory - seen along the Achiote Road and surrounding areas on different tours, and some additions from friends, guess and people who have collaborated sharing with us their sightings. The list is continuously on the move. Feel free to send your findings and comments to info@birdingbyboattour.com Check here for the complete list of Central Panama Birds.
Yellow-billed Cacique
Black-faced Grossbeak
White-vented Euphonia Go Back
ShiningHoneycreeper
Pale-vented Thrush
Ochraceous Wren
Thrush-like Mourner
White-throated Spadebill
Black-crowned Antpitta
White-tipped Sicklebill
Tawny-throated Leaftosser (rare)
Red-faced Spinetail
Emerald Toucanet


Orange-billed Trogon and many more!
home
tours
rates
checklist
contact us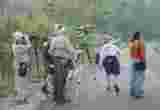 "
Thank you again Gonzalo I will heartily recommend you to anyone who has an interest in the incredible birdlife of Panama.
Memorable. "Roger Jarrett
"
All in all, it was a memorable adventure and birding trip and you helped make it special."

Marlin and Anita Jones, Iowa .